---
Talk to an experienced Perfumes professional
We're very excited to offer live phone calls with a Perfumes expert. Whether you have questions about the latest arrivals or looking for help deciding between items, feel free to call our experienced professionals at 026313239 today! 
---
Branded Perfume Shop Online
Fragrances UAE is one of the region's most distinguished online perfume retailer. With more 40 years of working experience in UAE, we are committed to offering only authentic branded fragrances. Branded perfumes tend to last longer and have more levels of fragrance than their cheap counterparts. Scents for women are generally lighter and floral while for men they tend to be strong and woody. At Fragrances, we have in place an exclusive collection of perfumes from luxury brands such as Gucci and Bvlgari for both men and women.
An ideal gift for your loved ones would be a bottle of branded perfume. Explore your options on Fragrances UAE's online perfume shop and grab everyone's attention by flaunting the scents genuine Oud or Jasmine. We aim to provide the most extensive range of perfumes for the cheapest prices delivered right to your doorstep. In addition to our comprehensive online store, we also have four perfume shops in Abu Dhabi.
Original Perfumes for the Cheapest Prices
Perfumes for Men
Men's fragrances are generally either strong, woody, musky, leathery or aromatic. We have in stock popular men's perfumes from manufacturers such as Calvin Klein, Paco Rabanne and Mont Blanc, to name a few.
Perfumes for Women
Women's perfumes are usually floral, fruity, sweet or light in its scent. At Fragrances, you can find authentic products from brands such as Chanel, Gucci, and Prada for the cheapest market prices.
Gift Sets
Present your loved ones a gift set of branded perfumes and make their day. Our gift set collection includes classics such as the Gucci Guilty Absolute Gift Set, Pour Homme Set by Versace, and Mont Blanc Legend Night Gift Set.
---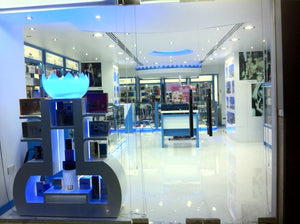 The Story of Fragrances
Established in 1978, Fragrances UAE started out as a store in Abu Dhabi's Old Souq. Today we have expanded to four outlets across the city and also has in place an online portal. We aim to sell authentic perfumes for the best prices in the UAE. We carry a multi-million Dirham inventory of about 2000 branded perfumes.
We deal with exclusive branded fragrances and colognes from France, the USA and some countries in Europe. Our bestsellers include brands such as Hugo Boss, Burberry, Chanel, Christian Dior, Lancome, YSL, Elizabeth Arden, Dunhill, Gucci and much more.
Fragrances UAE is a trusted name in perfume retailers in the UAE. Check out our stores in Abu Dhabi or our website to buy designer perfumes at cheap prices.